Rain Songs Break Drought Media Release 5 December 2019
Rain Songs Break Drought Media Release
5 December 2019
Rain-Songs-Media Release-2019-12-05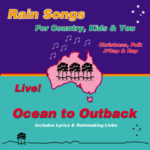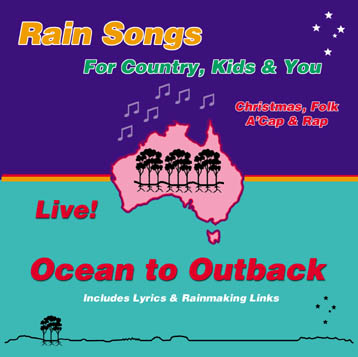 "Rain Songs" Break Drought !
New words to easy tunes tell how to bring Rain & Vitality to Australia with "Rain Songs"
Songs include Christmas, Folk A'Cap & Rap for Singing Up The Land !!
In the beginning is the word – and the words were sung with power and passion the night before the heaviest rainfalls in over a year were experienced across eastern Australia.
The night before the drought breaking rains of December 2002, an Avalon singing group, "A'Cappella 'Round the Bends" sang a series of "Rainmaking" songs written by Richard O'Neill for "Ocean & Outback". The songs were written with new words to well known tunes, with the intention of enabling people to quickly "sing-up" and energize themselves and the environment – it WORKED !!! and Avalon, the sing-up centre had the heaviest rainfall in the metropolitan area.
Also, the substantial rains around June 15, 2005 coincided with a Rain Making Journey & ceremonies to Central Australia and Bush University in the Kimberley, where much of Australia's rain begins.  Details at https://australianvisions.com.au/vitality-toolkits/rain-songs-toolkit/
Now the Rain Songs & lessons of Rainmaking are available on the Rain Songs CD and in a Rain Making Toolkit, which includes the songs as an MP3 download or CD, techniques and a rain dance for "Country, Kids & Communities".  – Try it – it works !!
The kit is ideal for schools, councils or community groups, and workshops are offered by Richard "the Rainmaker" to help bring rain and new vitality especially to drought affected areas.
Rainmaking is practiced by most ancient cultures – and the science is now beginning to be understood.  Richard, who bridges ancient wisdom with a scientific background, works with the effects of nature's subtle frequencies and songlines. He also delivers vitality & creativity training programs for organizations and communities.
Richard is an outback tour operator, engineer & business consultant to some of Australia's leading companies and says "Communities can "sing-up" rain by increasing harmonic resonance between Earth's songlines, sacred sites & people – this is an ancient but largely neglected science."
Aboriginal Elder, Aunty Beryl Carmichael says "My father, the late Jack Kelly was the last rainmaker in the Broken Hill area – singing & chanting is very powerful – it comes straight from within the soul in our language – we sing up fish, rain, and are the custodians of the birthing song of this region". If our methods are not working, perhaps listen to those who have been here 60,000 years.
Creating FUN & VITALITY by Celebrating Nature is the reason behind 2 other toolkits ie "Song & Dance for the Trees Events" Toolkit (details at www.danceforthetrees.com ) and Australian Visions "Big Picture" Toolkit – for Peacing Our World Together. They are ideal for teachers & community leaders.
You can see and order the Toolkits at www.australianvisions.com.au/products or by calling 0417 244 600
You can hear sample songs & see lyrics here https://australianvisions.com.au/vitality-toolkits/rain-song/
Or more info here – https://australianvisions.com.au/vitality-toolkits/rain-songs-toolkit/
If you know of any rainmaking success stories we are keen to record & promote these – please send them in !
Workshops & talks introducing rain making principles are also available. Contact Richard with any questions, or help with singups, toolkits, workshops or "Science of Rainmaking" details, or ASK
Join the mailing list for latest info – https://australianvisions.com.au/contact/
Thank you – have Fun and – stay tuned !
Richard O'Neill
Australian Visions
Contact – Richard O'Neill BE FAIM   vision@AustralianVisions.com.au   Tel 0417 244 600
Like & Share on Facebook   @AustralianVisions   @RainmakersOz   @DanceForTheTrees
PO Box 488 Neutral Bay NSW 2089 Australia  ABN 24002623814
For updates or info please join mailing list here https://australianvisions.com.au/contact/
Note we do not guarantee these songs or products will create rain for you or in your area, but rain has frequently occurred after Rain Song Sing Ups & Rain Dances. Many Traditional cultures know and practice some similar techniques.